Welcome to Faithful Friends Pet Portraits, where we help you to lovingly preserve your pet's special expression on canvas to enjoy for years to come.

Because we know that nothing can capture your heart like a beloved animal companion, Bonnie's custom oil on canvas fine art paintings are available in many sizes–from as small as 5×7 to 16×20 or larger. Choose the right application to fit your budget while maintaining the quality of a custom hand-painted canvas created by an experienced artist.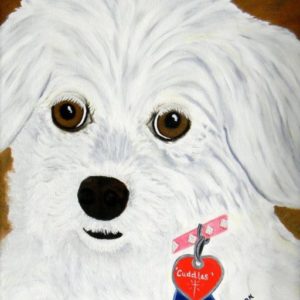 Base Portrait Package – Head/Shoulders
Head/shoulder portrait of one pet with blended color background to make your pet stand out.

8″ x 10″ = $120
11″ x 14″ = $200
14″ x 18″ = $250
16″ x 20″ = $275
*custom sizes available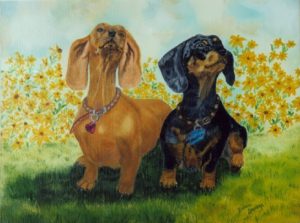 Upgrade Options
Full-Body Portrait ~ +$50
Multi-Pet Portrait ~ +$50 / pet
Detailed Custom Background ~ +$50 – 75
*10% Discount for Multiple Add-Ons
Bring Your Portrait to Daily Life
Once your painting is complete, you can order matching custom key chains, necklaces, tote bags or playing cards with your pet's portrait, as well. Check out a few samples below!